Five Preventive measures to stop Bleeding Gums
March 5, 2020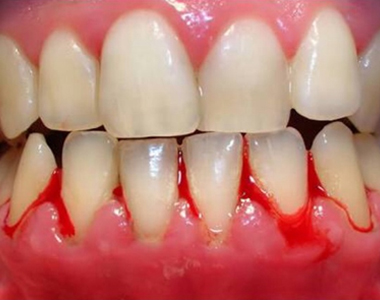 Bleeding gums are extremely common – to such an extent that most of us will experience them during our lifetime.
One of the first signs of gum disease are bleeding gums. This should act as a red alert that something needs to change in our oral health routine.
Recent statistics show that far too many of us are willing to overlook bleeding gums. Almost one in five (19%) immediately stop brushing the bleeding area and nearly one in ten (8%) stop brushing altogether. A little more than one in five (21%) decide to book a dental appointment and more than one in four (28%) just discount the problem altogether.
Just because it might seem normal for our gums to bleed, it doesn't mean we should ignore it. That's why, as part of National Smile Month, the Oral Health Foundation and GSK have come together to list five ways we can help stop bleeding gums.
1. Brush twice a day with a fluoride toothpaste
This is first on the list for a reason. Brushing our teeth twice a day for two minutes with fluoride toothpaste is vital for gum health and also helps protect against other oral diseases.
For best results, keep brushing the last thing at night and at one other time during the day, using an electric toothbrush.
Dr. Soha Dattani, Director Scientific & Professional Affairs at GSK Consumer Healthcare says: "Twice-daily brushing is important because it removes plaque. If the plaque isn't removed, it continues to build up, potentially leading to tooth decay and gum disease."
2. Use interdental brushes or floss
Using interdental brushes or floss is another key component of a good oral health routine. This is because a toothbrush cannot get in between our teeth as interdental brushes or floss can. It's important to get into these areas which a toothbrush cannot reach, otherwise, pockets of plaque may build up, potentially causing problems for our gums and eventually lead to bleeding gums.
Dr. Nigel Carter OBE, Chief Executive of the Oral Health Foundation says: "When we first start using interdental brushes or floss it is common for our gums to bleed. If this happens, it is important to persist and keep going. After a week or two, the bleeding should stop."
In recent years, studies have linked gum health to a reduced risk of heart disease, so the benefits go beyond our gum health.
3. Use a fluoride mouthwash
Fluoride mouthwash is beneficial for oral health as it helps to clear our mouth of debris. It also helps prevent plaque build-up on our gums, in-between our teeth, and the surface of our teeth in between brushing.
On top of all that, it can also help to freshen our breath by killing the bacteria associated with bad breath also known as halitosis. It is important that when considering a mouthwash we choose one containing fluoride to help give our teeth that extra protection throughout the day.
"Gums are the foundation for healthy teeth and caring for them is important. Mouthwashes such as Corsodyl can help treat and prevent gum problems and give our mouth the fresh and healthy feeling it deserves."
4. Visiting the dentist
If we have something wrong with our car, it is likely we would call a mechanic, right? The same principle applies to problems in our mouth and a dental care professional. Dental practice is the best port of call for any oral health issues we are having, including bleeding gums.
If our gums continue to bleed over a prolonged period, it is important that we don't wait for our routine appointment to come around – pick up the telephone and book a visit.
Dr. Nigel Carter OBE, Chief Executive of the Oral Health Foundation adds: "Once we have removed the plaque, the health of our mouth should improve, and our gums should stop bleeding."
5. Healthy diet and lifestyle
This is important not just for bleeding gums but for good health in general. A healthy diet plays an important role for our mouth to function properly. Remember that when we are reading the labels 'no added sugar' does not necessarily mean that the product is sugar-free. It simply means that no extra sugar has been added, but does not include the presence of naturally-occurring sugars. Lifestyle factors can also affect our mouth health such as smoking and drinking alcohol. Those who smoke are more likely to have gum disease. This is because smoking causes a lack of oxygen in the bloodstream, so the infected gums don't get the chance to heal.
Dr. Dattani says: "A diet that is rich in vitamins, minerals, and fresh fruit and vegetables can help us to prevent gum disease. Healthy gums help us guard against tooth loss, bad breath, diabetes, heart attacks, and strokes. These benefits extend far beyond the mouth and really can help improve our quality of life."
"It might be easy to overlook bleeding gums and think they are quite harmless," adds Dr. Carter.
However, the harsh reality is that if we ignore them then we could end up losing teeth. It could also lead to several other diseases and harm our overall well being.
Healthy gums are needed to support healthy teeth. Please don't ignore bleeding when brushing. By following the steps outlined in this blog we can help give our oral health a boost it needs and halt bleeding gums in their tracks.
Arnold, David "Five ways to stop bleeding gums and the benefits of doing so." Oral Health Foundation, 31 May 2019,
https://www.dentalhealth.org/blog/five-ways-to-stop-bleeding-gums